L'European Research Council (ERC) ha atorgat a la professora Cristina Canal un dels ajuts 'Proof of Concept', destinats a apropar al mercat els avenços en recerca de frontera. Amb aquest ajut, la investigadora del Grup de Recerca de Biomaterials, Biomecànica i Enginyeria de Teixits (BBT) del CREB UPC avaluarà la viabilitat de portar al mercat una nova teràpia per tractar l'osteosarcoma, amb menys efectes secundaris, i que permet la regeneració òssia.
L'osteosarcoma és una malaltia rara –suposa menys del 0,2 % de tots els càncers que es diagnostiquen–, que afecta principalment infants i adolescents: representa el 2 % de tots els càncers que es diagnostiquen en infants de 0 a 14 anys i el 3 % dels que es diagnostiquen en adolescents de 15 a 19 anys. Millorar la supervivència dels pacients amb osteosarcoma és un dels reptes que s'encaren des del món mèdic i científic, ja que la taxa de supervivència és del 30 % en pacients amb tumors metastàtics. La teràpia estàndard per tractar l'osteosarcoma consisteix a extirpar tot el tumor amb marges negatius, la resecció d'àrees òssies més grans que el mateix tumor, per assegurar que no resten cèl·lules canceroses a la vora del teixit eliminat.
Ara, la professora i investigadora Cristina Canal, cap del PlasmaMedLab, gràcies a un dels ajuts Proof of Concept (PoC) del ERC, podrà avançar en el desenvolupament d'una nova teràpia per al càncer d'ossos, que evita els efectes secundaris dels tractaments convencionals –com, per exemple, la quimioteràpia– i que alhora permet la regeneració òssia quan hi ha hagut resecció quirúrgica del tumor. Amb el projecte TRANSFORMER (per les sigles de Transforming bone cancer therapy with composite biomaterials encapsulating plasma-generated RONS) es desenvoluparà un producte que uneix per primer cop biomaterials per a la regeneració òssia amb un tractament innovador basat en hidrogels tractats amb gas plasma, que indueixen la mort de les cèl·lules canceroses.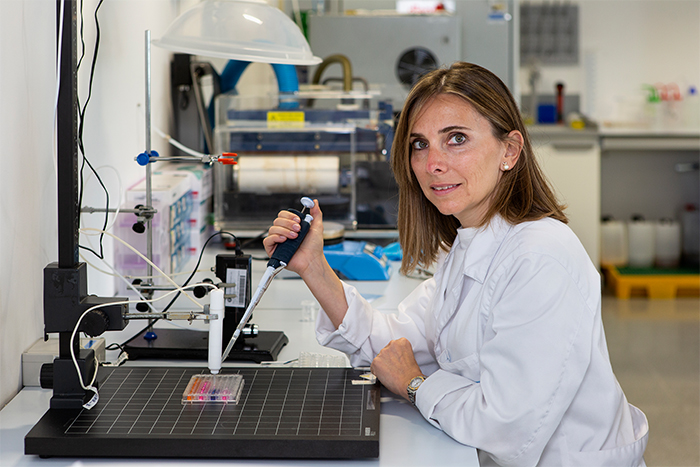 "Volem apropar la nostra tecnologia cap al mercat perquè un dia aquesta teràpia pugui arribar a beneficiar els pacients", explica la investigadora Cristina Canal. I afegeix que l'ajut li permetrà "avançar en el desenvolupament d'aquesta nova tecnologia, preparant-la per al desenvolupament clínic i, alhora, explorar la viabilitat comercial del producte i dissenyar un pla de negoci que proporcioni un full de ruta per atraure inversors".