Medicine and Clinical Engineering
Biomaterials, Biomechanics and Tissue Engineering (BBT)
Advice on compliance with rules and directives for electromagnetic compatibility (EMC).

Advice on the effect of non-ionizing radiation.

Automation of tests and measures. Design of virtual instrumentation (LabView).

Calibration of electronic sensors and systems.

Characterization and evaluation of ECG, EEG, EMG and bioimpedance electrodes.

Design of biomedical instrumentation for diagnosis, therapy and monitoring.

Tailored training in the design of electronic instrumentation, sensors, microcontrollers and systems based on DSP, virtual instrumentation.

Pre-evaluation of electrical safety (Low Voltage Directive).

Redesign of equipment and facilities for compliance with EMC standards and directives.

Signal processing systems: high-resolution electrocardiography, analysis of heart rate variability.

Bioimpedance techniques: analysis of body composition, monitoring of cell cultures, etc.

Advice on the acquisition of biomedical equipment in hospitals.
Biomaterials, Biomechanics and Tissue Engineering (BBT)
Electrostatic discharges.

Electrical Safety test equipment.

Impedance Analyzers and Impedance Spectroscopy systems.
Calibration and Dosimetry service
The Calibration and Dosimetry Laboratory has been authorized by the National Accreditation Agency (ENAC) as Calibration Laboratory No. 23 according to the ISO 17025 standard for the following activities:
Monitor calibration for environmental dosimetry, and for personal dosimetry. Quality control in x-ray radiodiagnostics and standard ionization chambers for x-rays, gamma radiation and beta radiation.

Calibration of portable monitors for surface contamination.

Calibration of high voltage measurement equipment for x-ray equipment.

Irradiation of personal and environmental dosimeters.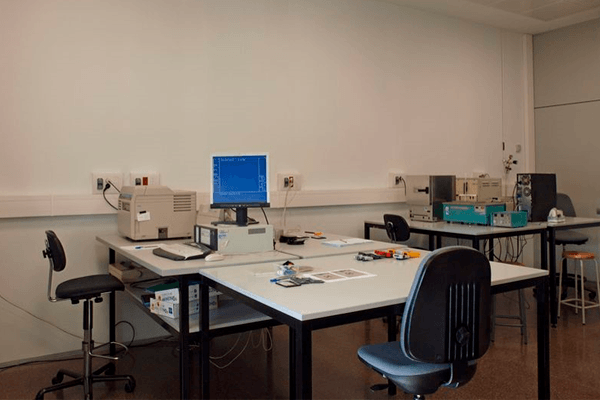 Radiological protection service
Radiation protection monitors and thermoluminescent dosimeters, to set up and classify work areas where staff are professionally exposed to ionizing radiation. To establish radiation risk assessment. To provide advice on radiological protection.
Optimization: design, construction, modification, and decommissioning of facilities with ionizing radiation.